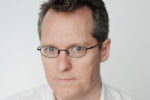 Podcast: Play in new window | Download (Duration: 30:22 — 27.8MB)
Subscribe: iTunes | Android | RSS
Episode 193 – Be Inspired to Make Films by Thom Powers
Quote of the Day: "Saying it and doing it are two different things." –Frederick Wiseman, Boxing Gym
Guest of the Day: Thom Powers lives just outside of New York City. He is a documentary curator for DOC NYC, as well as the Toronto Film Festival, and SundanceNow Doc Club. He is also a teacher in a Master of Fine Arts program in social documentary at The School of Visual Arts in New York City. Most recently, he has become the podcast host of the show Pure Nonfiction that launched the day of this interview! On Thom's shows, he finds the answers to things like: How did first-time filmmakers pull of the show Making a Murderer? How did a producer from the Daily Show with Jon Stewart become the show runner for The New Yorker Presents? And how did a lawyer become an award-winning Sundance director? He also shows how often stories behind the scenes are as dramatic as what's on the screen.
Passion: Documentary film is Thom's passion.
Challenges: "In anything I've started, whether it's a film or a film festival or a podcast, the first thing to get over is just your own slight embarrassment about it…it can be a little bit embarrassing saying that you're going to do something that, you know, maybe people think, like: 'Oh, yeah, sure you're gonna do that…Sure you're gonna make a film, isn't everybody making a film now? Sure you're gonna do a podcast.'" Thom adds that facing this skepticism can be very healthy because it forces you to take a good look at the decisions you are making.
Learned About Self: Viewing hundreds of documentaries a year has required that Thom be open to things outside of his own expectations. He has learned that he can be open to that and open to innovative filmmaking styles. He shares that "It requires a conscious act of humility sometimes."
Suggested Resources:
A Guide for the Perplexed by Werner Herzog
Parallel Lines, Nina Davenport

Sherman's March by Ross McElwee
To bring documentary film-making into your life…
Envision: Design the movie poster first and envision the end result. "Design how you want this film to be received by the world before you make it."
Explore: Watch as many documentaries as you can, and get a sense of your likes and dislikes.
Execute: "In a way you have to allow yourself for it to be a little messy. And not worry that you're doing it the wrong way, because I think there probably is no wrong way to start anything." Thom says to just "come at it," and "Don't let perfect be the enemy of the good."
Advice to Listeners: "For anybody who wants to make a documentary film, or any film, really, I'd recommend to them a list of Ten Rules by the Russian filmmaker Victor Kossakovsky…"
Motivational Go-Do!
Push past perfection and get started – get past your own embarrassment.
How Motivate Me! Ultimate Support System can rally around Thom Powers:
Website: www.purenonfiction.net
Twitter: @purenonfiction
Twitter: @thompowers
And, as always, on the Facebook page: Motivate Me! The Ultimate Support System
If you enjoyed, a review on iTunes and Stitcher would be much appreciated!