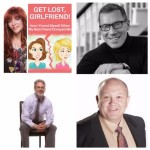 Podcast: Play in new window | Download (Duration: 19:27 — 17.8MB)
Subscribe: iTunes | Android | RSS
Friday Reflection: Be Daring to Live a Life You Love
Quote of the Day: "Be daring, be different, be impractical, be anything that will assert integrity of purpose and imaginative vision against the play-it-safers, the creatures of the commonplace, the slaves of the ordinary." –Cecil Beaton
Weekly Show Reflection:
Hellooo, my fellow Motivators!
I want to give a little shout out to Jan, one of our members of our private Facebook group. She likes the name Motivators because she feels that's what we are ALL doing, so I'm running with that. Thank you, Jan, for all of the insight and humor and motivation you bring to the group. It makes me insanely happy to see you there.
So, today. Today I have been reflecting on the guests of the week, and I am pretty moved. I feel like what they've done is powerful. I am moved by the daring they have had, the nerve to step away from judgement, and to step away from the hefty investment they had made in something in their lives to start something new. And "Stepping away" from it feels like the perfect terminology because they were quiet about their actions. They just followed what they knew was right for them, and they quietly transitioned into that.
For example, Monday's guest. On Monday, Dr. Sharon Livingston PhD was on the show. There are probably, and I don't think this is an underestimation, 100 topics I could have discussed with Dr. Sharon. Since the interview, she and I have probably discussed twenty of them. But, Sharon could have come on to speak about one of her many passions, or she could have come on to teach us a lesson on one of the multiple skills, techniques, or tools she is familiar with. However, when I realized that she wrote a novel about being dumped by a best friend, I asked her if she would come discuss this with us. Creative writing is a new passion for her, one she started late in life but has fallen in love with. This book is only the first of many she plans to write.
Writing this specific book: Get Lost, Girlfriend! How I Found Myself When My Best Friend Dumped Me was part of a healing process for Sharon. The thing is: It took a lot of daring for Sharon to write this. She had to block out the judgement she knew would be coming in order to find a true place to tell this story from. She says on the show that there are many places one can find support when they lose a loved one through death or divorce, but when it comes to friendships, we are just expected to get over it. How difficult of a decision it must have been for her to put this story on paper and out into the world, even in a fictional way.
I just keep envisioning myself writing a similar story. In my real-life relationships, I have been the one who has left, and I have been the one who's been left. Even though this story is fiction, fiction is based on reality. The hardest part for me in writing a story like this is knowing which parts of the story my friend would know and recognize. Because the whole time I was writing, I'd be thinking about how her perspective would probably differ from mine. And how she would most likely be reading this at some point in time. I presume Sharon had a similar experience, and that she had to shut down those voices, or she could have talked herself out of writing this story. I mean, imagine writing a story about your best friend, you know how your friend thinks, and that would be the hardest part in the writing process. I think the other hard part is that writing a book like this one pretty much says that you're walking away from the years you had invested in a friendship. Regardless of any, or all, of this, Sharon wrote the book anyway. The girl has, what's the word: kahonas?
Tuesday designer/decorator James Swan was on the show. James is an interesting person with an interesting story to tell. Personally, I think James could and should go on the road speaking to people about following your truth and overcoming hardship. James went to college, got a degree, started a job – in the field others felt he should, but he was not satisfied. He, then, traveled back to who he was and what he loved as a child, and for him it was a sketchbook full of images and rooms, history and mystery. And, despite the fact that judgement could be cast, and that he already had much invested in a degree he didn't desire and a job he didn't care for, he quietly, subtly, confidently jumped ship, looked out onto a new horizon, and designed a new life. One that, this time, was true to him. Listen in to that episode to hear James talk about how his design firm was flourishing and he was living the life of his dreams, and within ninety days it was all pulled from underneath him, even his home.
James has had a tough road at times, and he has learned to continue to adamantly, purposefully forge ahead. And that when his forging is exhausted, all that is left to do is release your needs to the universe and wait for it to answer back. From where James sits now: the author of an extremely successful book, the host of an exciting podcast: Million Dollar Decorator, he can see that all of the challenges in his life have served their purpose.
I just want to say to James that there is a wisdom and a tenacity that exudes from you. And I don't care if you are dressing elephants in a circus, they would walk with style and grace because you willed them to. I believe chutzpah is the word that best defines James.
So, Wednesday, oddly enough, we had Dr. Sharon's husband, Dr. Glenn Livingston PhD on the show. Now, again, you would think this psychologist was coming on the show to teach us a lesson in something, that is not the case. I was really surprised and flattered that Glenn shared with us some very personal thoughts and conversations he has had with himself regarding an issue of his own that he has battled, which is binge-eating. If you struggle with this, definitely go back and listen to this show. If you have an addiction of any kind, this is an episode for you.
I'm really talking here today about daring to be yourself, to live what we call in coaching an authentic life, one that as I said about James, is living a life that is true to you and who you are.
Glenn was very honest about why he wanted to be a doctor and how much he thought it would mean to him emotionally, and in the end, he realized that what he truly desired is to coach people on an issue he himself had to overcome. And I say coach because, as Glenn said, this type of relationship with a client is not the type that calls for medical charts and insurance companies. And so, while he has a few patients, the majority of his clientele is just that: coaching clients. Wow. I think this is how you really know you are following your passion. When you walk away from things that once were so important to you – even if it was more important to those closest to you. It takes guts to do this.
I am quickly becoming a fan of Thursday's guest, business coach Butch Bellah. Butch and I met in person at the National Speakers Association's winter conference in Austin, Texas a few weeks ago, and he is just the kind of guy you find yourself drawn to. He is funny, big-hearted, super intelligent, and just out to help people succeed. This guy exceeds all boundaries, there is no keeping him in. In his twenties he was achieving the success of business men in their 40s. As if that wasn't enough, while he was doing it, he was also appearing on stage as a stand-up comedian. No, not at the place down the street, he had to get on airplanes to perform the shows he was putting on. And, when his business had achieved the success that most people wait for so they can sit back and coast, he sold.
He battled back from bypass surgery and back surgery, he has written books, he is on the speaking circuit. He could rest, but why should he? That is just not the way this guy likes it. And he came on to teach you, fellow Motivators, how to do the same. How positivity and productivity go hand-in-hand. Butch sees no limits because he is a sky's the limit kind of guy.
Friday. What do I have in store for you today?
All of this week's guests were successful in their lives when they made the conscious decision to dare for more.
Sharon could have stayed heartbroken and quiet about the loss of a friendship that crushed her. James could have stayed working a job that was worlds away from his childhood passion: decoration and design. Glenn could have continued to allow the prestige of travel and high profile clients to steer him away from something as personal as helping clients overcome the same binge-eating issue that plagued him for much of his life. And Butch could have coasted, either in the business he grew or the retirement he acquired early. But they didn't. Why? Because they dared to want more. They dared to dream. They dared to believe they could.
This reminds me of a conversation I had recently with past guest Paul Ames. Isn't that what's so awesome about Facebook and the Internet, you get to actually stay in contact with people from shows like mine. And, Paul is a member of our private group, like almost all of my guests, so we get to stay connected and banter back and forth a bit. Well, Paul had a business success recently and I, trying to be a nice friend, made a meme in his honor. And, if you're not familiar with what a meme is, it's just a picture with words on it that is shared online.
So, I said to him, through this meme, something I share on the show frequently, which is that with belief, hard work, and true intentions, you will be successful. But today, I added something to that in a new conversation with Paul, and I know it was inspired by my conversation with James this week. I typed: "Believe, work hard, have true intentions, let go."
This conversation with Paul stemmed from a picture he posted that showed a bright red injured hand clutching a rope and it said: "Sometimes holding on does more damage than letting go." And the final image was one of a healthy hand.
My point to you today: Let go. Dare. Dare to dream. Dare to achieve. Dare to live a life that twenty years from now you want to tell people about. Not necessarily because it was adventurous or outlandish, but because you just loved it that much. Because you were excited by it that much. Because it was everything you wanted.
That's it for today everybody. Please know that I, on a daily basis, attempt to envision you. I try to see who you are, what you're traveling through, and how your time here is motivating you to make positive change in your life, and that you are happier because of it.
I hope I get to meet some of you while I am out on this amazing 50-state journey. Whether it is at our send-off party on the Seaside Heights boardwalk on May 4th, in any of the United States as we make our journey, or at our return celebration party on August 1st. I'm excited. I'm excited to know that you're out there listening and dreaming and daring.
So to you America, and to our listeners in each of the other 82 countries, I hope you are living a life you love, and if you're not, please let me and my guests help you!
Call to Action:
The Motivational Go-Do!
Are you living a life you love? If you're not, please let me and my guests help you!
CLICK HERE to listen to this week's reflection.
If you enjoyed, a review on iTunes and Stitcher would be much appreciated!