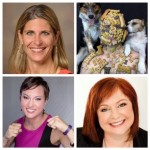 Resolve is the Key to Accomplishment
Quote of the Day: "There is no scarcity of opportunity to make a living at what you love; there's only scarcity of resolve to make it happen." –Dr. Wayne Dyer
Weekly Show Reflection:
Welcome, all, to this Friday's reflection!
You know, some people may wonder what the heck this week's four guests could possibly have in common. I mean, a pancreatic surgeon, a man spending 1-3 hours a day dressing himself up in intricate disguises just to post the pictures online, a woman who is known as the "Pull no Punches Accountability Powerhouse," and another woman who jumped out of an airplane to tell her fears, "Be gone!"
There are actually a couple of powerful connections I see between with these guests. One is that they each had a decision to make that would undergo harsh scrutiny of others. For Dr. Taylor Riall, MD, it was to leave her profession to become a coach to other surgeons, to Michael Gump, otherwise known as #masterofdisguise, it was to continue his art, continue to push his creativity past the original 365 day mark he had originally intended: could he continue this same level of creativity? For powerhouse Candy Barone it was launching her own business: did she have what it took on the personal front and the content front to engage an audience, to empower them? And, for business coach Toni-Maree, it was staring into the eyes of corporate and saying, I'm good enough and strong enough to go it on my own.
But the connection I would like to discuss today is having resolve.
What does resolve mean? Resolve simply means to have a strong determination.
First, I would like to identify and discuss the resolve found in each of these guests' stories, and then I would like to speak with you about your own resolve. Would you consider yourself strong? Would you consider yourself determined?
Let's get started with Monday's guest, Dr. Taylor Riall, MD. Now, it is no secret that becoming a pancreatic surgeon is a grueling process. To complete this task shows resolve in itself. But what happens when you get there? When you have to live up to an expectation, and all of those long hours preparing for the end goal don't change much. When you are expected to keep that strength of steel. When you feel like less admitting that it is too much, too hard, wrong for people to live this way. Enough so that you're prepared to walk away from all that you have earned. And you're prepared to risk that because you feel you are the only one with these feelings. But something happens for you. An awareness. An awakening. A courage different than the one you've counted on to get you past all the other hurdles you've crossed. But to share this new understanding means to stand in front of your peers and say that there is another way. And then to not settle for less in your career until you are able to do both: treat the patients you have trained much of your life for and break the cycle of surgeon burnout. Dr. Taylor Riall stood strong for something she believed in. She believed in it so wholeheartedly that she was ready to walk away from a career she once loved. But because she was determined, she was offered a new position in a new place with a new purpose that is much better aligned with who she has become as an esteemed professional.
Tuesday's guest took us in a new and awesome direction. Michael Gump set out on a quest on January 2015 and that was to challenge himself to create a new disguise for an entire year – that is 365 disguises in 365 days, never missing a day. This was his challenge. Now, some of these disguises could be considered a costume, but the vast majority of these disguises are more like art pieces. Based on our brief email conversations, I really thought Michael was going to be a little bit more of a jokester, that it would be difficult getting a straight answer from him. But the reality is that this is a man educated in art. That art is his career. That these costumes are really exercises for him to stay creative. The New Year has come and gone and Michael continues to craft new disguises daily. He considered switching his exercise to a new medium, but he didn't because as he says, "There is more gas in the tank." And that pushing himself further on the creative front is an even better exercise. Do I need to say that this dude has serious resolve? He made his challenge and pushed himself further. I am mesmerized by much of his work, and if you have not checked him out yet, I suggest you do – let me know if it's just me! Google Bob Bugs to see his disguises.
On Wednesday I was really wowed by Candy Barone. She is a coach and speaker and her focus is to get people to say "Yes" to their own power. Candy is on fire. She has written books, she does workshops and speeches, she works with people one-on-one. Her experience, both personal and professional, exudes from her very being. She is so passionate about what she does and has traveled far to get here. Without a strong resolve, she would not have been able to overcome her personal issues that she so freely shared with us. Without her strong resolve she would not be able to do what she does today. Her experiences with abuse as a child, with over-eating, with over-exercising, with over-drinking. The tornado she had turned herself into. Something great about Candy is that she can relate to her clients. She has been there and she knows how to get out, and she is going to be the resolve her clients need to hold onto until they build up that strength of their own.
Thursday we had Toni-Maree on the show and because of her chronic anxiety, she has had to depend on her resolve her whole life. She came on to discuss with us how to shut off fear, and she knows because, like Candy, this has been a lifelong struggle for her – but she has resolved to overcome it. She struggled with fear and anxiety her entire corporate career, one in which she found great success. However, while she was moving up the ranks professionally, her body was going downhill until it was overtaken by pneumonia. An illness that took her two years to fully recover from. On the worst day, the first day she realized she was sick, her mind went directly to fatality. It was that moment she realized what she wanted most was to be more available to her daughter because she is the meaning of her life. And so, she pulled from a new resolve, the one that enabled her to walk away from that successful career to one that made her believe she could create a new one of her own.
So, on this Friday I have a message for you about resolve. At this moment, I am working feverishly to get this episode out to you. I have an injury that is making it difficult to sit in my chair and type, because typical me, I fell on uneven concrete and messed up my arm, my shoulder blade, and that muscle that passes under your arm and to your chest. Bending down to pick up five pound Olive is a struggle. But, the only thing it has stopped me from doing is working out. I have worked twelve to fourteen hours a day for the last three days, and by damn, I do have strong determination. I am determined to bring you a high quality show, and I am determined to bring you an amazing 50-state tour.
I have been constructing paperwork and reaching out to sponsors, developing ideas and streamlining technology. I am all over the place, but those pieces are falling together every day. However, they don't fall together on their own. I will say this about having resolve: it is incredibly fun and incredibly rewarding. I don't know what it's like on the other side, so I am sure I can't compare. I mean, I would love to kick my feet up on the couch and watch TV – I love TV! I would love to take a nap or go get my nails done or go buy a new outfit. But I can't. I can't do these things because I feel as if you and others are depending on me, not just for this show but for the trip. And, maybe THAT is the key to resolve. Maybe it's what is on the other side once you get there. Maybe it has to do with our love or service for others.
For Taylor, it is not just the change this has made for her own life, but for the doctors she is able to help. For Michael and his disguises, it's not just accomplishment but creation. For Candy, it's not just her own recovery, it's the ability to help others break free from lives that have trapped them. And for Toni-Maree, it is not just the absence of corporate stress, it is the impact being home has had on her daughter's life.
If you are listening today and you feel as if you don't have much resolve, that you are not strongly determined to do anything, then maybe the question you have to ask yourself is why you don't. You will notice that for the five of us, it has to do with other people and with serving other people. Not all of us are married, not all have children, so no excuses here. Take an honest look, no one is looking… what can you dig so hard into in your life, that despite everything, you are going to finish it. You are going to bring it to life. You are going to be determined to get it done. Because I promise you, the television shows you are so enamored with now, the material possessions you think mean so much, the pampering you overdo will pale in comparison.
Call to Action:
The Motivational Go-Do!
Take an honest look at your life – are you taking responsibility for its outcome?
CLICK HERE to listen to this week's reflection.
If you enjoyed, a review on iTunes and Stitcher would be much appreciated!
Let us help you live a life you will be excited about…
the only regret you'll have is wishing you had started sooner.